www.cyber-kitchen.com
LYNX AND BETSIE USERS CLICK HERE


[an error occurred while processing this directive]

Support our featured affiliate to keep our site free



Donate Food FREE
MIMI'S FOOD LINKS
What's New
---
We had this at Kay Hartman's house. It comes from Paris Bistro Cooking by Linda Dannenberg. The recipe is from Le Bistro d'a Cote. Because the cakes did not come out of the ramekins nicely, we decided that next time we should put a piece of parchment paper at the bottom of each one.
This was posted to rec.food.cooking by Kay, and I've left her comments intact.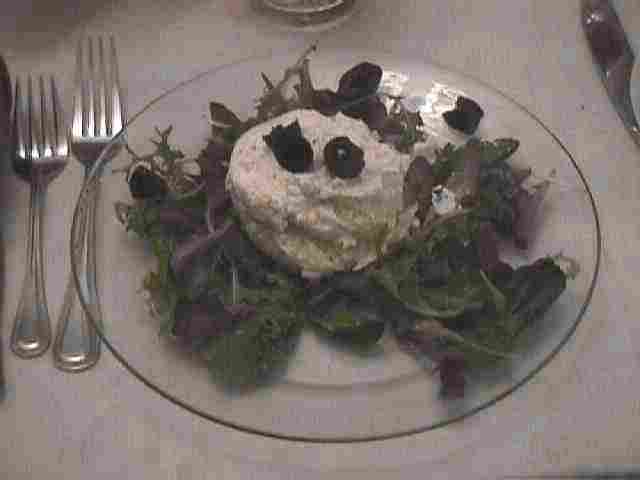 Wild Greens Salad with Potato Cake and Warm Goat Cheese
(Galette de Pommes de Terre au Chevre en Salade)

1 pound potatoes, unpeeled
1 1/2 pounds fresh goat cheese (chevre)
Salt and freshly ground white pepper [I used black pepper]
14 tablespoons extra-virgin olive oil [I used a lot less]
3 cups mixed wild salad greens (arugula, dandelion, purslane, and mache) [I used the mesclun, same thing as mache, that Mark picked up at the farmers market]
1/2 cup black oil-cured olives, pitted and chopped
Preheat the oven to 350 degrees F.

In a medium pot, cook the potatoes in enough water to cover until tender, about 15 minutes. [I salted the water before adding the potatoes.] Drain and peel, then slice thin.

Mash the goat cheese and season with the salt and pepper. [I used pepper only because I think the cheese is salty enough.] Place 1 tablespoon of the olive oil in each of 6 4-inch ramekins or small gratin pans. Using half of the cheese, spread a small circle of cheese in each pan. Top with the potato slices, cover with the
remaining cheese, and glaze with a tablespoon of oil.

Bake the ramekins until the cheese is lightly golden, 30 to 40 minutes. Let cool to lukewarm. [I left the ramekins in the oven while we ate the first course but the oven was off.]

To serve, toss the greens with the remaining 2 tablespoons olive oil and season to taste. [I seasoned with some more freshly ground black pepper.] Divide the greens among 6 plates, and place a cake on each plate. Sprinkle each cake with the chopped olives.

Serves 6


All data, logos, text contained on any portion of Mimi's Cyber Kitchen copyright 1995 through 2001 Mimi Hiller, JB Hiller, Jennifer Hiller. No portions of this website may be used without express written permission of the authors.