Rich Tester made this for our dinner at Kay Hartman's. This recipe comes from Simply French by Patricia Wells.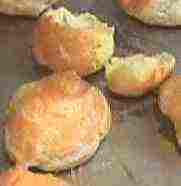 Tiny Cheese Puffs
Gougeres

Unsalted butter, softened, and all-purpose flour, for the baking sheets
8 tablespoons unsalted butter, chilled, cut into small pieces
Pinch of sea salt
1 cup water
1 cup minus 1 tablespoon all-purpose flour, sifted
4 large eggs, lightly beaten

3/4 cup freshly grated imported Gruyere cheese

1. Preheat the oven to 400 degrees F.
2. Lightly butter and flour 2 baking sheets; set aside.
3. In a medium-size heavy-bottomed saucepan, combine the butter, salt, and water over high heat. Bring to a boil, whisking occasionally. As soon as the mixture boils, remove the pan from the heat. Add the flour all at once, and beat viorously with a wooden spoon until the mixture comes away from the sides of the pan.
Return the pan to low heat and continue beating for 1 minute, to dry out the dough.
4. Quickly transfer the dough to the bowl of a heavy-duty electric mixer fitted with a flat paddle. Gradually add the eggs and 1/2 cup of the cheese, mixing at moderately high speed to incorporate the maximum amount of air. The dough should have the consistency of a very thick mayonnaise.
5. Transfer the dough to a pastry bag fitted with a plain 1/2-inch tip. (Depending on the size of your pastry bag, this may have to be done in two batches.) Pipe into round 2-inch mounds, spacing them about 2 inches apart. (If you do not have a pastry bag, carefully spoon the dough onto the baking sheets with a tablespoon.)
6. Sprinkle the tops with the remaining 1/4 cup cheese. Place in the center of the oven and bake until the puffs are an even golden brown, 20 to 25 minutes. Avoid opening the oven door during this time, for humidity will escape and the pastry will dry out.
7. To test for doneness, remove one well-browned cheese puff from the oven. Split it apart: It should be moist and steamy in the center. Transfer the puffs to a rack to cool. Serve warm or at room temperature.
Yield: 30 to 36 cheese puffs